Lunch with coworkers and Friday happy hours…remember those? Heck, right now many of us would probably relish the chance to converse in the break room as we drink burnt coffee, which may or may not be left over from the previous day!
Work is much more than just a paycheck to the majority of today's workforce. Many employees consider company culture and quality of life as equally important as, if not more than, money. Companies that recognize it's not just about the cash, are all but guaranteed to come out on top. In fact, 60% of employees say they would consider staying with their company if they had good friends at work. We're talking about social wellness.
Did you know that low social interaction is just as unhealthy as obesity, high blood pressure, and smoking? Work relationships are incredibly important to an employee's well-being. After all, we spend nearly 1/3rd of our lives at work! The friendships we have with our coworkers can affect stress-levels, productivity, engagement, happiness, and overall health.
Consider this – according to Gallup, work environments that place importance on social engagement have:
36% greater safety record
7% increase in employee engagement
12% higher profit
Now, with many employees working remotely, that ability to nurture friendships at work has become a lot more challenging. Feelings of isolation, fear, and loneliness are running rampant throughout society.
So as their leader, what can you do?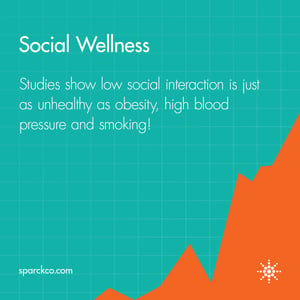 While many have turned to video conference and communication platforms, such as Zoom, Google, Skype, and Slack, to conduct remote business, these platforms can also bring your workforce together. We're sharing some ideas and tips to help your employees feel connected to their colleagues and support their emotional health.
To really bring these ideas to life, you can increase the social engagement and make these ideas most effective by finding out who on your team is most passionate about this topic and form an informal committee - your very own Virtual Social team!
So now, here are some ideas that can promote social wellness and productivity for your employees, despite virtual day-to-day operations.
Virtual Mix and Mingle Happy Hour
For the first idea, let's start with happy hour. Now just because bars and restaurants are closed, that doesn't mean you have to give up your mid-week or Friday afternoon catch-up with colleagues and friends. According to SHRM, virtual happy hours help coworkers and peers stay connected. Maybe it's not the same as clinking glasses and laughing in person, but a virtual happy hour is not a bad substitute…and guess what? Pajama pants are welcome – provided you don't stand up that is.
Tip: It's important to remember that with children home and family obligations, an after work happy hour isn't always the best. Consider mixing the "when" and "what" to ensure that no one feels left out. Remember, the purpose of a virtual happy hour is to boost team spirit and engagement, not contribute to screen fatigue or cause more separation. An optional online mid-morning coffee break is just as effective and won't alienate any of your non-drinkers or disrupt the day too much.
Virtual Game Night
As you now know, building a strong team environment is important to overall employee engagement. However, how do you build or strengthen a team atmosphere when the team can't be together? Online game events are a great option to bring your team together and socialize. Utilizing existing virtual platforms, your Virtual Social committee can schedule different games to involve more employees based on their individual interests. It doesn't need to be limited to these communications channels either, there are online gaming platforms that are easily accessible. Your committee can elect a different employee each time to moderate or "host" the virtual game night.
Some of your employees may already be participating in these types of game nights with friends outside of work already, so see what recommendations they may have. Here are a few ideas to get you started:
Trivia Games
Family Feud - office style
Pictionary
Charades
Bingo
Jeopardy
JackBox Games
Fill in the Blank – such as Cards Against Humanity (for the right environment!)
Build a story – each employee provides one sentence until the story is complete
A G-rated version of "Never have I ever…"
Didn't like any of the ideas that were mentioned? No problem, here are some more ideas!
Tip: It's important to keep in mind that not everyone will have access to the same materials or platforms, so pick games that are easily accessible and don't require extra work or supplies to increase participation. As we mentioned before, consider the "when" and the "what" when you schedule your game nights to accommodate your team members. These can be after hours or during lunch breaks. You can even invite spouses and children to participate, the world is your oyster.
Virtual Escape Room
Here's another idea: virtual escape room. While escape rooms have been a great team building event for many companies over the past few years, virtual escape rooms are probably a newer concept with quarantine. By providing clues, online puzzles, and exercises, it takes teamwork to solve them before time runs out. If successful, the team has "escaped." Luckily, you don't have to start from scratch and create these experiences by yourself. There are existing options to make it a fun and seamless process, such as Puzzle Break or Enchambered.
Enchambered, for example, has different escape room puzzle games, including a free two-player option. Player 1 and Player 2 enters his or her respective "room" and then shares what is seen on the screen. Each player has "clues" that are used to solve the puzzle on the other player's screen, so it requires a lot of communication and concentration. Bring your teams together and let the fun begin!
Tip: To keep your employees engaged, it's important to maintain a high level of quality clues, puzzles, and exercises so don't try to reinvent the wheel when there are so many great options. If this is your first time, it may be best to keep groups small and work your way up to larger teams so no one gets left out or frustrated - which would defeat the purpose of fostering these positive workplace relationships. If you have a competitive team, partner up and see who can solve it the fastest, which leads us to the next idea...
Virtual Contests
A combination of virtual contests are a great way to create social engagement experiences and reach performance goals while working from home. The committee can include fun contests like the most creative backdrop, to ridiculous outfit, best dressed, best drawing or even an at home scavenger hunt, the possibilities are endless. These are a great compliment to any performance driven contest you may want to implement, such as the most virtual meetings set, most sale contracts, best customer service score or fastest product release.
Contests are a great way to build a culture of recognition outside of the office and show your employees how much you care during these uncertain times. They help drive our need for friendly competition and bring the team together, which is hard to fulfill when the most social interaction a majority of us are getting is holding a conversation with our dog or cat during the workday.
Tip: Keep your employees engaged and encourage participation, offer a reward or simply have a leaderboard visible during each team meeting with contest updates to make it top of mind. Contests are a great addition to your recognition programs, but to really boost performance and inspire the desired success behaviors to reach team goals, you need to identify how each of your employees are motivated. Remember not everyone wants a gift card as a reward, each person is motivated differently - they may want public recognition, extra PTO time, or a food delivery from their favorite restaurant. Get to know what makes each person tick. Start the conversation by asking the right questions for personalized recognition.
Virtual Physical Fitness
With gyms closed and social distancing restrictions in place, getting the physical exercise many crave is an ongoing problem and for some it's hard to maintain the mojo it takes to keep up. By offering online fitness programs – such as group Zumba or Yoga – you can reduce your employees' stress levels and help them live a healthy lifestyle in this "new normal". This is critical because mental health related stress is at an all-time high with the quarantine. According to the CDC, exercise is the best cure for mental health related stress. So support your employees and equip them with the resources they need to be successful in and out of the "office."
Tip: There are also many online fitness challenges that your employees can compete in as a workplace team if they don't want to do it alone. Or maybe start with an informal internal contest that tracks who is taking the most steps every week? This virtual contest not only encourages physical activity, but will give your employees a break from their computer to get fresh air (and help eliminate any technology fatigue that is inevitably seeping in) so they can perform their best work. There are numerous apps and devices to easily track steps and put this contest into motion.
You and your employees need each other more than ever right now. Relationships and friendships can reduce feelings of isolation and boost employee engagement. With great uncertainty and daily ups and downs, your employees will remember how you helped them get through these crazy times long after they are over. This is your chance to show them how much you care to inspire higher retention, productivity, and performance despite the economic obstacles. There's no need to put your employee experience initiatives on pause just because you may be leading remotely, you will still be able to benefit from the financial business outcomes that come with increased friendships in the workplace.
In fact, it's a great time to expand it – after all, for many employees "Virtual" is the new "Vogue."