If you've been following our content, you likely already know the importance of recognizing employees and the major impact it has on building a positive company culture, boosting morale, and promoting employee engagement. However, knowing how to show employee appreciation can sometimes be challenging, and that's why we're here to help!

At Sparck, we believe that recognizing employees is an art that goes beyond simply providing perks. After all, everyone has unique preferences when it comes to feeling appreciated. In fact, from our years of experience working with busiensses of all sizes, we've identified SIX unique appreciation styles. And understanding each employee's preferred appreciation style can make a HUGE difference in the impact of your words and actions.

That's why we've created a fun quiz to help you identify which appreciation style best suits you, and each member of your team. Before diving into this article, we recommend taking a minute to find your own appreciation style. Once you've found your style, we'll give you personalized ideas for customizing your appreciation to each of the styles. After all – everyone deserves to feel appreciated for their good work!
Knowing what a person embodying each appreciation style values the most is a super important tool for leaders when deciding how to show employee appreciation. Each team member usually identifies with one style, but it's even possible to have attributes from more than one. In this blog, we'll cover the six main appreciation styles, and give you some killer ideas on how to personalize employee recognition for each type. We promise to keep it light, entertaining, and informative!
The Six Sparck Appreciation Styles
1. Celebrate With Me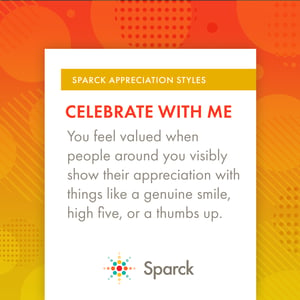 If you have team members with the "Celebrate With Me" appreciation style, it's important to know that they feel most valued when they're outwardly recognized by their teammates. They love feeling like they've accomplished something big and take a lot of pride in their work and contributing to the team. These employees love getting a high five, thumbs up, or a quick jig when they wrap up a big project.

Tips to make them feel appreciated (warning, some of these are downright silly):
Keep a few plastic kazoos in a desk drawer and give a quick musical tune to let them know they are rocking it
Decorate their desk with streamers or a banner for their birthday or work anniversary
If your team is remote, send a celebratory giphy through Slack


If a coworker has the "Connect With Me" appreciation style, they are all about building authentic and meaningful relationships with their teammates. These employees really appreciate feeling connected with the rest of the team and are always looking for ways they can better support the company together.
How can you show these employees some appreciation? Try to:
Put your phone on silent and away from your reach during conversations
Get to know them better outside their role within the organization. Use the F.R.O.G. conversational method (Family, Recreation, Occupation, and Goals) to spark conversations and find common ground
Make an introduction if you know someone else on the team with similar interests


3. Show Me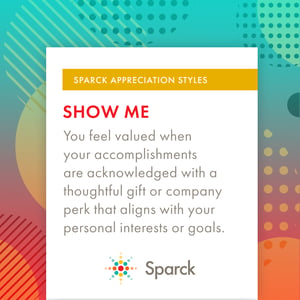 People with the "Show Me" style crave physical proof of their effort and accomplishments. They're most happy to receive something tangible as tokens of appreciation, which could be as simple as a printed certificate or trophy to sit on their desk. Trust us, they'll love it!

Are you wondering how to show employee appreciation for those with this style? You can:
Surprise them with their favorite coffee in the morning (if the team is remote, this works just as well with a PostMates or DoorDash delivery)
Give them a personalized certificate or plaque for their achievements
Buy them a gift card to their favorite lunch spot
"Support Me" employees feel their best when they know they've got backup from their teammates. When their coworkers are there to lend a helping hand, that's when they feel the most seen and valued.

How you can make them feel appreciated:
When they have a deadline coming up, ask them if there is anything you can do to help
Share resources you come across that you think may be helpful to them
Tag along to a conference they are attending so you can better understand their role

5. Tell Me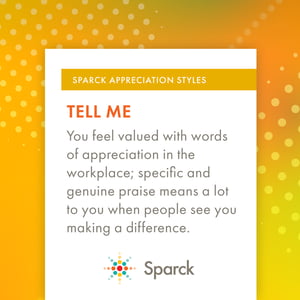 Team members with the "Tell Me" style most enjoy getting words of recognition from their teammates and leaders. These employees feel the most proud of their work and appreciate it when they receive a "thank you" or "good job." For someone with this appreciation style, words really do mean a lot to them, and genuine gratitude can go a long way!
Tips to share some words of affirmation:
Write them a handwritten note or a personalized email expressing appreciation
Give written or verbal positive feedback when they perform well
Utilize phrases like: "You are making such a positive impact. You did an amazing job! We are so lucky to have you!"


6. Trust Me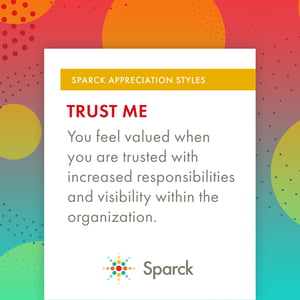 If you have team members with the "Trust Me" appreciation style, giving them more responsibility can actually be the best way to show your appreciation. These employees are always up for a new challenge and feel the most valued when they're given the trust and opportunity to take the lead!

Ideas to make them feel valued:
Allow them to be the "face of the organization" during networking meetings
Ask them for their input on organizational direction; this shows you value and trust their opinions and take them seriously
Allow them to run point on any new projects you think they would be suited for
How to Show Employee Appreciation: Personalizing Employee Recognition
Knowing your employees' appreciation styles is key to personalizing recognition and making them feel as valued and appreciated as they truly are. There is no one-size-fits-all approach when considering how to show employee appreciation – that's one reason why employee recognition programs fail.

What makes one person feel truly seen could make another person feel misunderstood. It's crucial to find out what makes each person on your team tick!
Our friend Betsaida LeBron created a video on the different Sparck Appreciation Styles that you don't want to miss! It's guaranteed to make you laugh. Betsaida is a team-building expert, improv comedian, mental health advocate, and Founder of ImprovEQ.

Now that you've familiarized yourself with the six appreciation styles, it's time to put your learnings into practice! Print a copy of this form for your team. Then, see if you can find one of each employee appreciation style on your team. As you do, tally up the number of team members with each appreciation style. The diversity of appreciation styles on your team – and how they differ from your own – might surprise you!

By understanding the different Sparck Appreciation Styles, you can make a real difference in creating a positive work environment and fostering a culture of appreciation within your organization.

Want to dive deeper into creating a happier workplace? Be sure to check out our Sparck workplace report!