For many, the month of February is the perfect time to express appreciation to their loved ones, whether it's a romantic relationship or a friendship. It's a month of love and appreciation, both for Valentine's Day and Black History Month (which we believe should be celebrated every month of the year, not just February).
You already know the Sparck Team will take every opportunity to make sure people are feeling appreciated!
We had an exciting launch this month that you may have seen on our social media accounts; the Sparck Appreciation Styles! Taking the Quiz will show you what Appreciation Style you have and ensure you know exactly how you feel most appreciated.
If you haven't yet, be sure to take the Quiz and find out your style! Hurry, right now it is free to take!
We have found that there are 6 main Appreciation Styles. Knowing what each style is and how to personalize the experience for each person based on the Appreciation Style is incredibly powerful. It's not the same ol' song and dance for everyone. Each person tends to identify strongly with at least one Style, though it is possible to have attributes from more than one.
Are you ready to show the people in your workplace how much they mean? AND, do it in a way that really means the most to them? Be sure to read until the end for a fun Treasure Hunt you can be a part of!


Celebrate Good Times, Come On!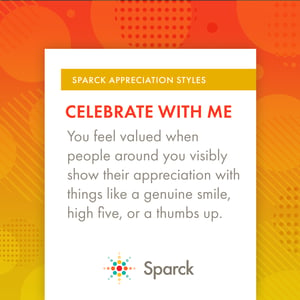 Be honest, did you just hum that tune in your head (or out loud)?

"Celebrate With Me" is the Sparck Appreciation Style for anyone who feels most valued when they are outwardly celebrated by their teammates. Do you love getting a high five or thumbs up from someone when you wrap up a big project? Maybe even a quick jig set to the tune of "Celebrate Good Times"!

Tip: If someone has this Sparck Appreciation Style on your team, here are some ideas to make them feel appreciated (warning, some of these are downright silly):
Buy a few plastic kazoos and keep them in a desk drawer. You never know when these will come in handy and you can give a quick "Toot, Toot" to let them know they are rocking it.
If they have a Birthday or Workiversary coming up, decorate their desk with some streamers or a banner. If they are remote, send them a celebratory giphy through Slack!
If your team is fully remote, send a thumbs-up emoji during a team call to let them know they are doing amazing.


Connection, I Just Can't Make No Connection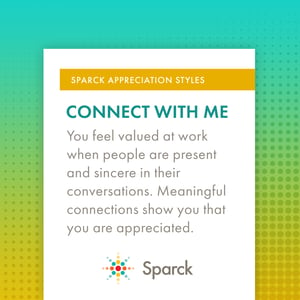 The next Sparck Appreciation Syle is "Connect With Me". If you have this Style, you thrive on genuine connections. When someone is having a sincere and honest conversation with you without any distractions, you feel truly valued. You love fostering the connections around you in genuine ways.
Tip: Here are a few ways to make anyone on your team with this Style feel really valued:
Next time you are having a conversation with them, put your phone on silent and away from reach.
Make an effort to get to know them better outside of their roles within the organization. Use the F.R.O.G. conversational method!
If you know someone else on the team who has similar interests, make an introduction.
I Can Show You the World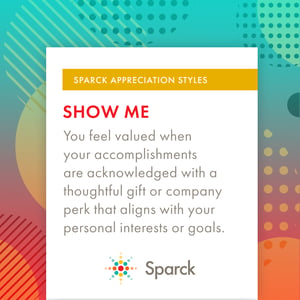 This Sparck Appreciation Style is "Show Me". Anyone with this style likes to receive tangible proof that they are making a difference within the organization. A token of appreciation goes a long way, and it does not have to be extravagant or expensive!

Tip: Here are some gift ideas for anyone on your team with this Appreciation Style:
Surprise them with their favorite coffee in the morning (if the team is remote, this works just as well with a PostMates or DoorDash delivery!)
Buy a funny greeting card thanking them for their impact. Bonus points if you add a personalized note!
Buy them a gift card to their favorite lunch spot.
If you have the "Support Me" Sparck Appreciation Style, chances are you feel most valued when those around you are willing to lend a helping hand. Think back to the last big project you worked on. How did it feel when your teammates offered to help with anything you need? Did you feel truly appreciated and seen? You may just have the "Support Me" Sparck Appreciation Style!

Tip: If it's not you, do you know anyone on your team who may have this Appreciation Style? Here are some ways to ensure they feel supported:
When they have a deadline coming up, ask them if there is anything you can do to help. Sometimes just knowing someone is offering to help can make a big difference!
Send them any resources you come across that you think would be helpful to them.
Tag along to a conference they are attending so you can get to know their responsibilities better.

You Make Me Want to Shout!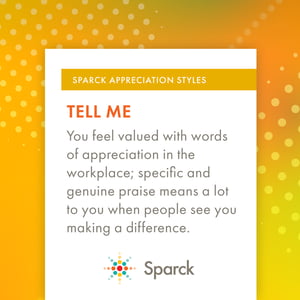 Do you value words of appreciation? Do you find yourself replaying compliments over and over again or rereading personalized notes in greeting cards?

You likely have the "Tell Me" Sparck Appreciation Style. Specific, genuine praise means the world to you and lets you know you are on the right path.
Tip: Here are some phrases you can use when showing your appreciation to anyone with this Style:
You are making such a positive impact within this organization.
You did such an amazing job with that presentation, you represented our organization beautifully.
You are irreplaceable and we are so lucky to have you!


A Matter of Trust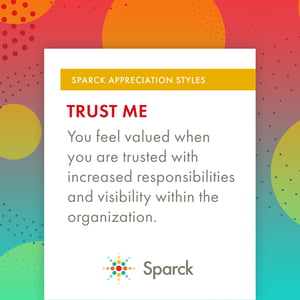 If you have the "Trust Me" Sparck Appreciation Style, you feel most appreciated when you are entrusted with increased responsibility. You glow whenever your team lets you spearhead new initiatives.

Tip: If someone on your team feels most valued with this Style, here are some ways to make them feel appreciated:
Allow them to be the "face of the organization" during networking meetings.
Ask them for their input on organizational direction; this shows you value and trust their opinions and take them seriously.
Give them the opportunity to run point with any new projects you think would be up their alley.
One thing is probably very clear after reading about the different Sparck Appreciation Styles.
Everyone is unique.

There is no one-size-fits-all approach when it comes to appreciation. Not by a long shot. What makes one person feel truly seen could make another person feel misunderstood. It's crucial to find out what makes each person on your team tick!

Our friend BetSaida LeBron created a video on the different Sparck Appreciation Styles that you don't want to miss! It's guaranteed to make you laugh. Betsaida is a team-building expert, improv comedian, mental health advocate, and Founder of ImprovEQ. Watch it HERE!

Now about that Treasure Hunt. We want you to have the opportunity to get to know the uniqueness of each of your teammates. Use the form below to see if you can find someone with each Appreciation Style on your team! Check off each one that you do find, don't forget to let us know your findings! We want to celebrate with you.
Now that you are equipped with the knowledge of the different Sparck Appreciation Styles, you are ready to make a meaningful difference within the organization. We can't wait to see the impact.